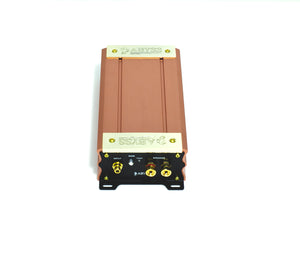 MONO A
Sale price Price $2,999.00 Regular price $3,999.00
The Abyss Mono A was developed to cater to the present demand for amplifiers with smaller foot prints. 
At the same time, Abyss wanted something different from everything else in the market.
The Abyss A Mono was born:

Stripped out of everything unnecessary ( crossovers , bass boost etc), this amplifier is a pure amplifier with only a gain switch to ensure there is no dilution or changes made to the signal.
Yes, you will need to buy a pair of amplifiers just to run stereo. But with each channel separated into its own chassis, this pure monoblock follows the footsteps of high end home amplifiers.
Abyss, always thinking ahead.
SPECIFICATIONS
OUTPUT POWER RATING:
14.4V @ 4 OHM: 50W X 1
14.4V @ 2 OHM: 70W X 1
MONOBRIDGED: NA
POWER SUPPLY: CLASS A
MAIN PCB MATERIAL: FR-4D/ 1 OZ ( GOLD PLATED)
FREQUENCY RESPONSE @ -1dB, 4 OHM 10W: 10HZ ~ 50KHZ
S/N Ratio ( A-Weight/ RMS Power): >92dB
VARIABLE INPUT GAIN CONTROL (1% THD): 0.4V~2.0V
INPUT IMPEDENCE: 20KΩ 
DAMPING FACTOR(4 OHM/1%): >100
THD(A-Weight 10W): 0.02%
OPERATING VOLTAGE: 9V ~ 16V
PROTECTION( SHORT, THERMAL, DC OFFSET: YES
DIMENSIONS(MM): 116X 220 X 55
WEIGHT: 2KG