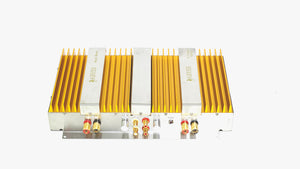 DUAL MONO A CLASS
Sale price Price $8,999.00 Regular price $9,999.00
New to the Abyss line up, the Dual Mono Class A is a work of art:
Fully hand built, this amplifier takes on the heritage of a legend from the 90s.
In 2013, Abyss was approached by the Japanese with a design that was thought to be long gone. Intending to revive this design, Abyss took on the task to build this amplifier and give it the Abyss tweaks:

What you have here is a work of art: An old school amplifier with a few modern upgrades.
Improved Fidelity, Heat sinks and connectors, the Dual Mono still retains part of its old school feel that fanatics in the 90s craved. 
Just like how V8s and V12s of today will never be able to replace the feel of a classic muscle car of the 70s,80s and 90s, the Dual Mono A is a pure Classic.
 SPECIFICATIONS
OUTPUT POWER RATING:
13.8V @ 4 OHM: 2X 80W
13.8V @ 2 OHM: 2X 120W
MONOBRIDGED: NA
FREQUENCY RESPONSE @ -3dB: 5HZ ~ 90KHZ
SEPARATION: > 70
INPUT SENSITIVITY: 350mV ~ 10V
INPUT IMPEDENCE: 10KΩ 
DAMPING FACTOR: >200
THD: 0.03%
OPERATING VOLTAGE: 10V ~ 16V
DIMENSIONS(MM):355 X 209 X 73
WEIGHT: 5KG